Microfluidics,
a division of IDEX Corporation
,
pioneered the
Microfluidizer
®
high pressure fluids processor
which delivers unique product capabilities. The unparalleled shear rates allows
cell rupturing
,
deagglomeration
and
particle size reduction
to micron and nano-sized particles,
encapsulation
and
emulsification.

Microfluidizer processors are used in research and development laboratories, as well as pilot and production manufacturing operations, where scaleup on your product is guaranteed.
The Microfluidizer high shear processor technology is widely used in the pharmaceutical, biotechnology, digital ink, microelectronics, food, chemical and personal care industries.
Microfluidics offers a complete line of Microfluidizer® fluid processors for deagglomeration and dispersion of uniform submicron particles and creation of stable emulsions and dispersions. Microfluidizer processors overcome limitations of conventional processing technologies by utilizing high-pressure streams that collide at ultra-high velocities in precisely defined microchannels. Combined forces of shear and impact act upon products to create finer, more uniform dispersions and emulsions than can be produced by any other means.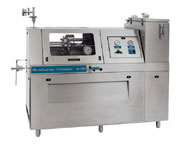 Microfluidics can help you develop innovative products or investigate reformulation of existing products to new levels of quality. And, with all Microfluidizer fluids processors, Microfluidics guarantees scaleup.


For more information - please contact us